LARGE printed beach towel - SWEARING ALL THE WAY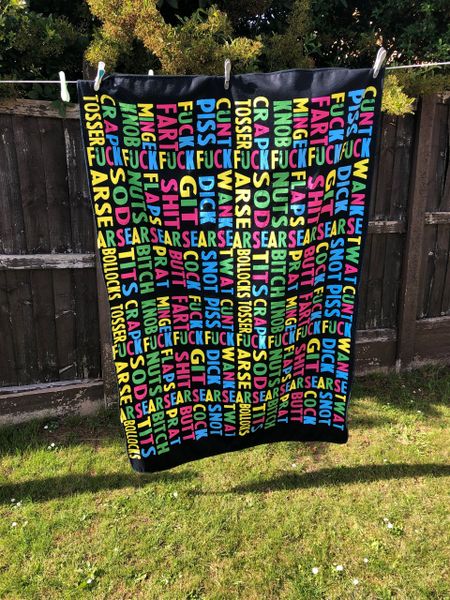 LARGE printed beach towel - SWEARING ALL THE WAY
Microfibre Beach Towel - Super Absorbent.
·       Oblong towel 58" x 39" approx – weight 280g approx.
Our beach towels are hand crafted here in the U.K. using 300gsm Microfibre towelling, which is lighter and more absorbent than cotton towels.
We use our in-house digital dye sublimation printing to bond vibrant colours to the superfine fibres, each towel is printed to order just for you, completed with a hand hemmed finish.
Your Microfibre towel will absorb water faster than conventional beach towels and air dries quickly. Microfibre is also very light and will need much less room in your holiday case….So everyone in the family can have their own!
Microfibre Qualities:
·       Super absorbent.
·       Extremely light.
·       Fast air drying.
·       Wash up to 30 degrees.
·       Air dry only.
·       Microfibre has a looped pile surface & is directional, if brushed in the opposite direction small flecks of the white surface will peek through, this is minimal at best and expected of knitted towelling textiles.
·       Listing is for 1 towel only.
·       Handmade in the U.K.
PLEASE ALLOW 5-7 WORKING DAYS DELIVERY FOR THIS ITEM
Reviews